Opera Western Reserve Presents
November 11, 2022 – 7:30 pm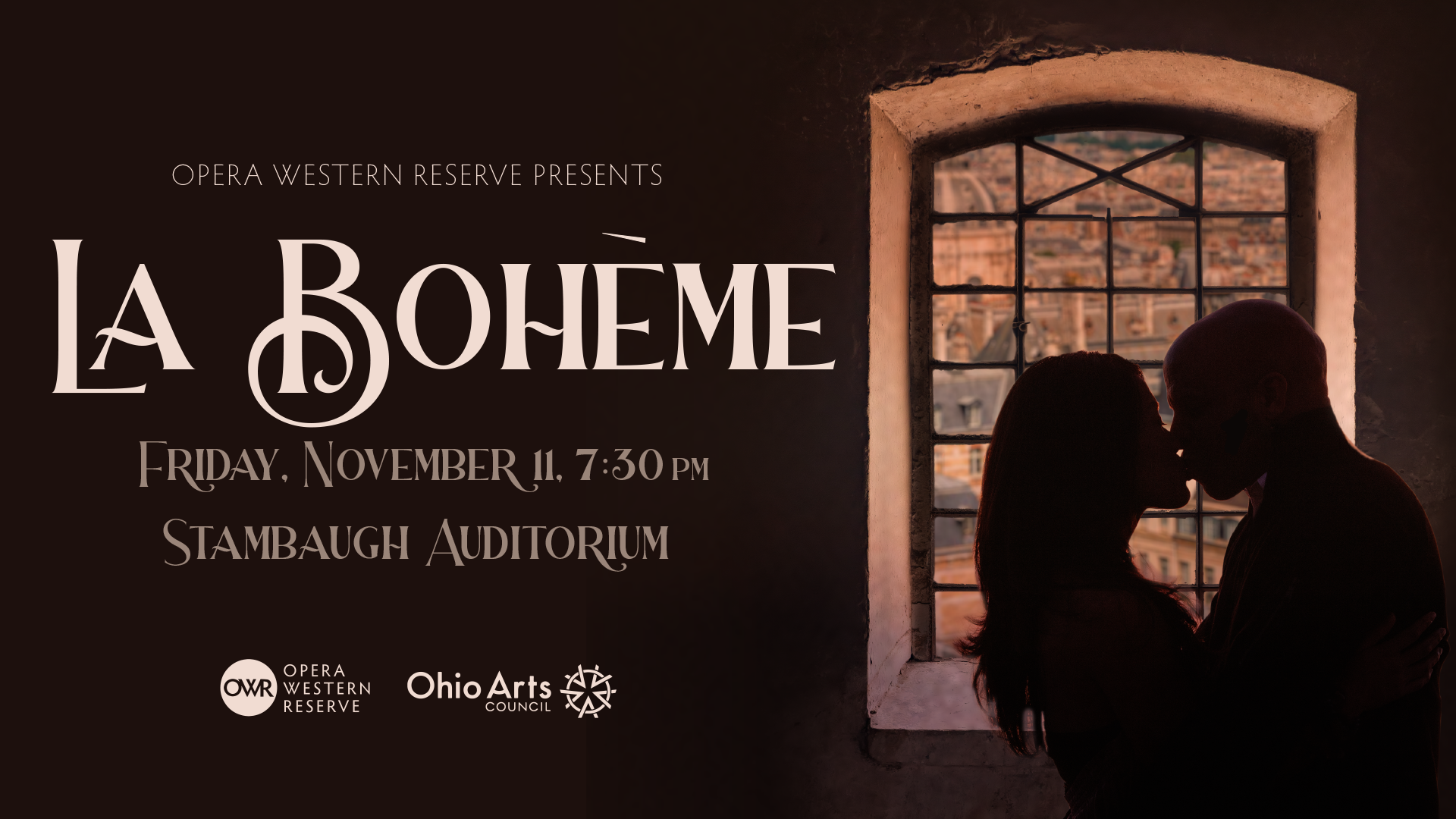 La bohème, an opera in four acts composed by Giacomo Puccini, is a triumphant blend of grim reality and soaring romanticism. The narrative, set around the late 1830s in Paris, tells the story of a poor seamstress and her artist friends.
Paris, Christmas Eve
Rodolfo, a poet, and Marcello, a painter, complain about the bitter December cold. They decide to burn Rodolfo's latest play to keep warm. They are joined by their friends Colline, a philosopher, and Schaunard, a musician, who brings with him an unexpected windfall of food, wine, fuel and money.
Schaunard suggests they celebrate Christmas by going to the Latin Quarter's Café Momus. But before they can leave, their landlord, Benoît, arrives to collect the rent. They invite him in, quickly devising a trick to avoid paying the rent. The others head to Café Momus, but Rodolfo decides to stay behind to finish an article he's working on.
He is interrupted by Mimì, a neighbour, whose candle has gone out. He wants to help her but suddenly she faints. When she revives, Rodolfo relights her candle and she leaves. Mimì realises she has lost her key and, for a second time, her light goes out; Rodolfo's candle has also gone out, leaving them both in darkness. During the search for her key, he feels how cold her hand is and offers to warm it in his. He tells her about his life and shares his dreams with her. In turn she tells him of her solitary existence as a seamstress. They declare their love for each other and leave for the Café Momus.
Café Momus, Latin Quarter
The streets are bustling with revellers, shoppers, vendors and children. On the way to Momus Rodolfo buys Mimì a hat before nervously introducing her to his friends. Musetta, Marcello's ex, makes a grand entrance, followed by her wealthy new lover Alcindoro. Musetta is determined to get Marcello's attention, and sings a song about her irresistible attractions. She sends Alcindoro away on a pretext, before falling into Marcello's arms. The friends make a quick exit, leaving an unwitting Alcindoro to pay their bill.
Barrière d'Enfer
Dawn breaks and snow falls on a chilly February morning, as Mimì comes in search of Marcello. Mimì is overcome with coughing. She pours out her heart to Marcello, telling him how Rodolfo is making their life miserable with his obsessive jealousy. She asks Marcello to help them separate. When Rodolfo emerges from the inn she hides. Rodolfo confesses to Marcello that the real reason he wants to leave is that, because of his poverty which has brought on her sickness, Mimì is dying. Now he is consumed with guilt. Mimì overhears and cries out which forces Rodolfo to comfort her. They decide to wait until spring arrives to part.
Marcello and Rodolfo try to work, but both are depressed and out of sorts. When Schaunard and Colline arrive with a meagre supper, they decide to make the best of things. Just as their fun is getting going, Musetta bursts in. Mimì is with her; she has left her rich lover and is dying. The friends leave to buy medicine and find a doctor. Left alone, Mimì and Rodolfo reaffirm their love. The others return and, in the confusion of sorrow and concern, Mimì dies, unnoticed. Grief-stricken, Rodolfo cries out her name.
Rodolfo: Jonny Kaufmann
Mimi: Rhea Olivaccé
Marcello: Andre Chang
Musetta: Rachel Copeland
Schaunard: Brian Johnson
Colline: Dan Ewart
Benoit/ Alcindoro: Jason Budd
LA BOHЀME PRODUCTION STAFF:
Production Director: Scott Skiba
Conductor: Susan Davenny Wyner
Production Stage Manager: Robert Pierce
Projection Designer: Brittany Powell Merenda
Hair/Makeup Technician: Leah Altiero
Wardrobe Supervisor: Brian Palumbo
Supertitles: Scott Skiba
Chorus
Anthony Casacchia 
Jessica Chisholm
Kristina Clemons
Elizabeth Crowll
Amanda Egolf
Colleen Harris
Dean La Salandra
Alexander Kluchar
Maeve Law
Emily Adgate Lewis
Allegra Lewis
Joshua Lewis
Julia Mihalich
David Mouse
Lauren Nord
Diane Pack
Lucy Papini
David Pratt
Donald Rasely
Emilio Santiago
Kathie Steeb
Abigail Witherstine